ClimeFish on Climate-ADAPT list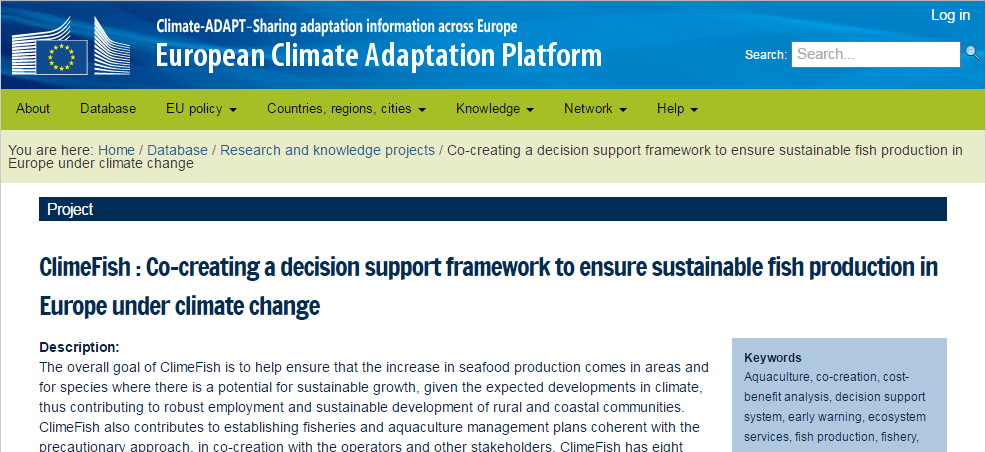 ClimeFish is now listed among the projects of the European Climate Adaptation Platform, Climate-ADAPT.
Climate adaption is high on the agenda of the European Union as are both the reduction of greenhouse gas emissions and commitments to protect the ozone layer. The European Commission directorate for Climate Action, DG CLIMA, leads the efforts to fight climate change at the EU and international level and ensures that adaptation measures are implemented to reduce vulnerability to the impacts of climate change.
The European Climate Adaption Platform, Climate-ADAPT, is a partnership between the several institutions within the EC and the European Environment Agency EEA that aims to support Europe in adapting to climate change by sharing data and information on the projected magnitude and effects of climate change in Europe as well as strategies, options and tools to support adaptation planning.
The Climate-ADAPT web pages include a searchable, annotated and quality checked database that contains information on projects and case studies including implementation of adaptation measures. We are proud to announce that ClimeFish is now featured as an adaption-related research and knowledge project in this database.
Three of the 16 Case Studies in ClimeFish are of high relevance for adaption implementation: Greek aquaculture, West of Scotland marine fisheries and Hungarian lake and pond production. In these three Case Studies the effects of climate change will form the base of a complete management and implementation plan. We will submit these for inclusion in the Climate-ADAPT database as soon as the implementation module for each of them is finalized.
In addition to the three implementation cases ClimeFish has the ambition to develop climate adaptation-focused management plans for five simulation Case Studies: NE Atlantic fisheries, Lake Garda Italian lake and pond production, NE Atlantic and Iberian upwelling aquaculture as well as general European waters seafood production.