European Waters Overall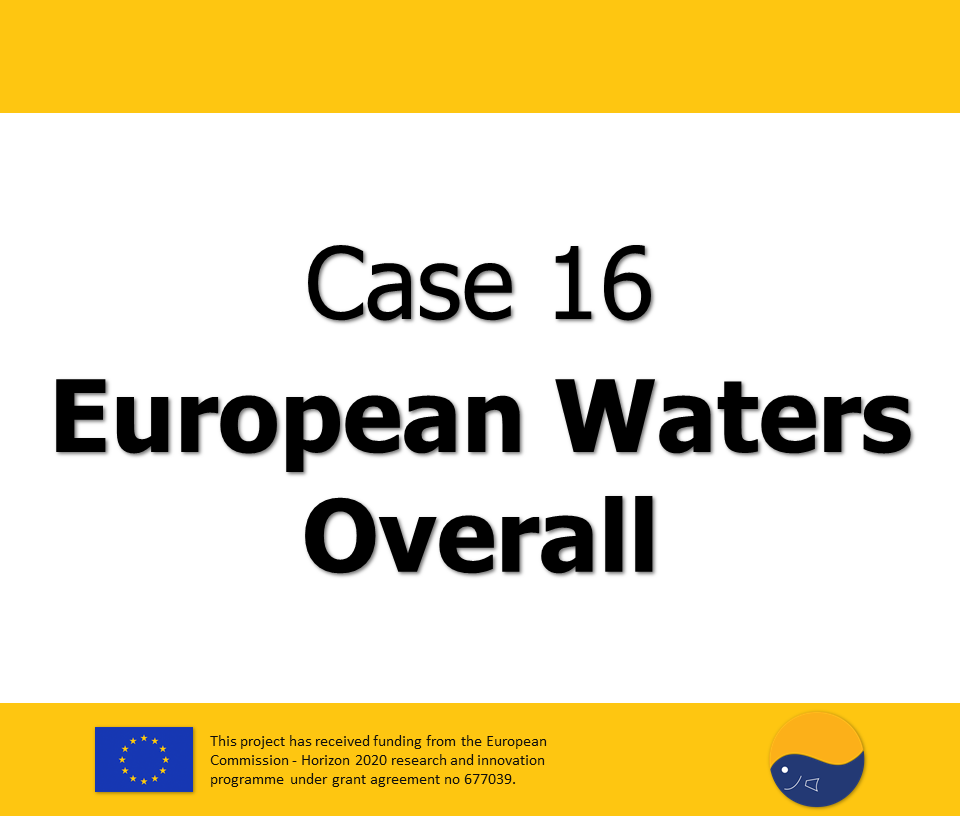 Species
ClimeFish includes 18 species that represent the most important and less resilient exploited fish stocks: the most productive aquaculture species, emerging species, and species vulnerable to temperature increase, thereby representing several aquatic habitats across Europe. The species are represented through 15 case studies within marine fisheries, marine aquaculture, and lake and pond fisheries and aquaculture.
Exploitable outcomes
The ClimeFish Decision support framework (DSF) including data, forecasting models, visualizations and the Decision Support Software (DSS).
CEN voluntary standard on "Good practice recommendations for making Climate Adaptation Plans for fisheries and aquaculture".
Climate Adaptation Plans for seven case studies including risk and opportunity assessments, vulnerability assessments, and respective adaptation measures.
Guidelines for establishing legal good practice when resources move and diseases occur.
Recommendations for co-creation practices to support cooperation within fisheries and aquaculture sectors, and science and society in general.
Effects of climate change
The effects of climate change, in particular global warming, will challenge the sustainability of the European seafood production volume. However, the marine fisheries and aquaculture sector are more vulnerable to warming than the freshwater sector in this regard. There is also a geographical discrepancy in Europe, as seafood production is more vulnerable in Nordic countries' marine sector because of high production volume and temperature sensitivity (Blanchet et al. 2019). Climate change effects also influence marine fish species distribution in Europe. Out of 19 northeast Atlantic fish species, encompassing 73 commercial stocks, all species have experienced distribution changes over the last 30 years. These shifts are at least partly due to shifts into areas of suitable thermal habitat, and density-dependent use of these areas (Baudron et al 2020).
Adaptation strategies
ClimeFish supports climate adaptation in Europe primarily by sharing its results and providing input and advice on a European level. ClimeFish provided input to the revision of the Strategic Guidelines for the sustainable development of EU aquaculture together with Member States. The project also provided regional and member state-level advice on climate adaptation, particularly in the countries with ClimeFish case studies. The ClimeFish contributions to the Climate-Adapt platform, e.g. the DSS description and input provided on adaptation options, foster knowledge sharing and transfer, and capacity building in climate adaptation within fisheries and aquaculture across Europe. By sharing ClimeFish results and outputs, the project contributes to closing the knowledge gap on climate change and adaptation in Europe.