Next CEN Workshop will be in Brussels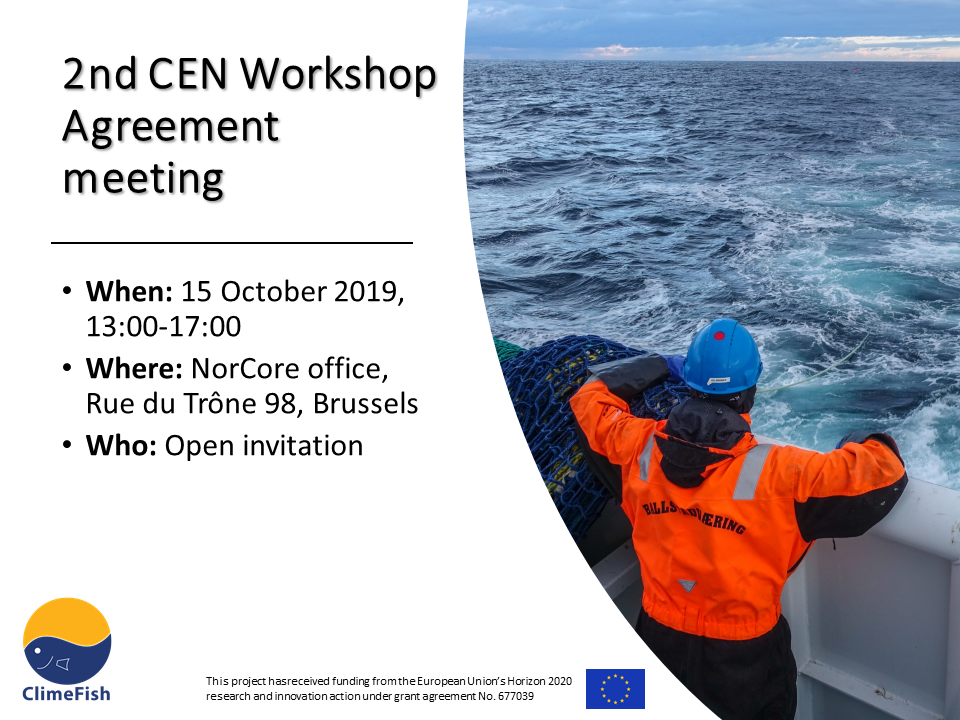 The purpose of the workshop is to continue the work on the consensus-based guidelines and good practice recommendations for how to develop Climate Adaptation Plans (CAP) for three different fish production sectors: marine capture fisheries, marine aquaculture and freshwater lake and pond production.
Time of next meeting: 15 October 2019, from 13.00-17.00.
Place: NorCore, Rue du Trône 98, Ixelles (Brussels), Belgium
The proposer and secretariat holder of this workshop is Standards Norway.
The chairperson is Mr Petter Olsen from Nofima, Tromsø, Norway. Contact info here.
If you wish to attend the CEN Workshop, please register by sending the registration form below to Rolf Duus by e-mail: rdu@standard.no with cc to ClimeFish@uit.no by  15th of September 2019. If you have previously registered for the CEN workshop process, just send an e-mail about your attendance to ClimeFish@uit.no.
Preparatory documents, such as the draft CWA standard, the meeting agenda and project plan, will be made available in due time.
PS. Why we are making guidelines for Climate Adaptation Plans